Today is a special day, it is the launch of our new exhibition with Portsmouth University's CCI Faculty.  This evening we will be opening up Sticks in Fareham to a preview of CFA: Work in Progress.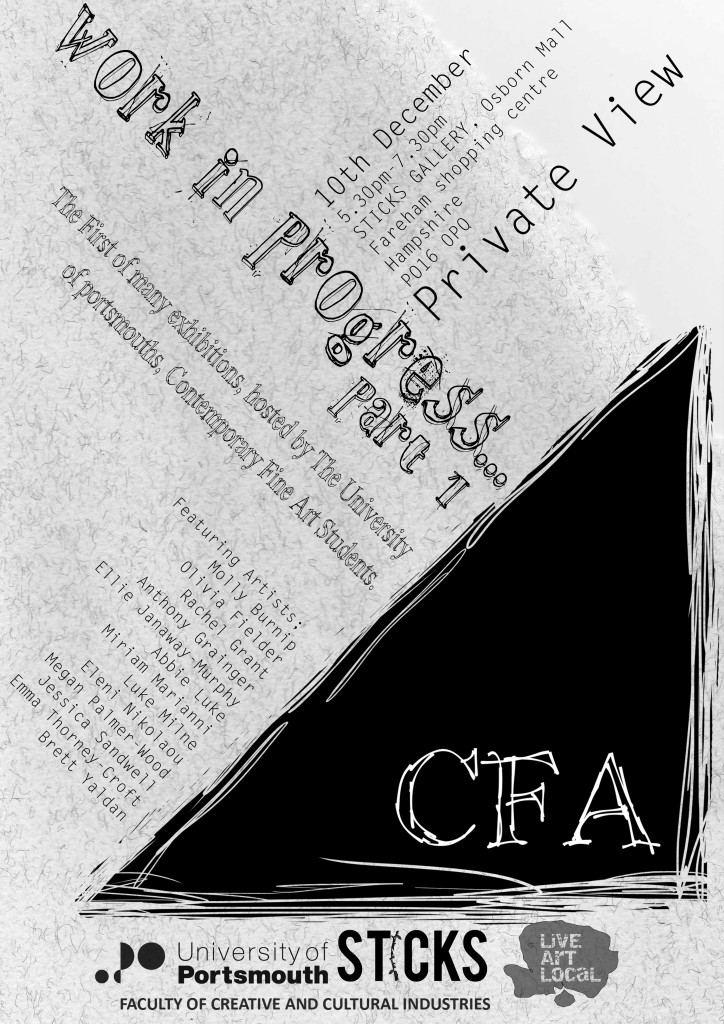 What's it about....?
This new show offers a chance for members of the public to see what goes on behind the creation of a piece of art.  It enables us to see the process of making art, and as this is the first in a series of exhibition detailing these emerging artists and their move into being artists out on their own, the progress they make on their work throughout their final year of study, culminating in their degree show to be held at Portsmouth University and in London next year.
The private view runs between 5:30-7:30pm this evening and all the artists will be on hand to discuss their work with you and answer any questions.  The Live Art Local CIC/Sticks gallery team will also be there to discuss and answer any questions you might have about us and what we plan for the future.
There will also be free food and drink and if we can make them in time lovely homemade mince pies and mulled wine to get you in the festive spirit!
Don't know where sticks is, don't worry, you can find us in the Fareham Shopping Centre at Unit 79a just inside opposite Millets
Can't make the preview don't worry we are open every Thursday - Saturday 10:30 am - 3pm