Brings together the work of several artists from around the UK working in a variety of media whose work deals with this essential human emotion. Each taking a different approach and showing us what hope means to them.
Meet The Artists....................
Anna MacDonald: Anna Macdonald is a dance artist and acamdemic from the North West, UK, whose practice spans site-specific events, installations and screen-based work. Her art explores the delicate tension between contingency and structure and looks for ways to express how people make a transient world feel reliable enough to live in. She specialises in working directly with the public, finding ways to intensify and articulate people's experiences so that they can be understood by others.
Anna's work has been exhibited widely in the UK and received international recognition including being nominated for the International Video Dance awards in Barcelona and having a recent solo exhibition at the AC institute, New York. Anna's public art works include commissions from; Wandsworth Arts Festival (the Shimmy commission), A Million Minutes curated by Central St Martins College, London and the London Road Festival commission in Staffordshire, all of which were funded by Arts Council England. Alongside her free-lance work Anna is a part-time Senior Lecturer in Contemporary Arts at Manchester Metropolitan University and has published several articles about her work, most recently contributing a chapter to Parts per Million: A Glossary of Public Art, St Martins Press, 2014.
For HOPE she has shard with us her film I will not hope

 

(Moving image 5m 26s : 2014) shot in the Autumn of 2014:
"Last Autumn, a group of people of different ages were invited to stand underneath a tree, and try and catch the leaves as they fell. Although it is almost impossible to predict when leaves will fall, it is equally hard not to believe that, if you just wait long enough or look hard enough, you won't eventually get one. As such this film provokes ideas about luck, chance and how far we feel we determine our successes. It is a bittersweet work that looks at the complexity of uncertainty and the physicality of hope."
Becky Ciesielski: Becky's work explores memory, trace and liminal spaces; the meeting point between different realms through space and time; where Other realms (memory, the unconscious, the imaginal) erupt, trickle, seep, breathe their way into this moment, the so-called 'Everyday', now.
Her practice spans video, installation, photography, sculpture, drawing, and text. A background in psychology research, alongside a lifelong interest in humanness, underpins her art practice.
For this exhibition we show her work I Still Breathe.  She has decided not to explain the piece, prefering the message to be ambiguous.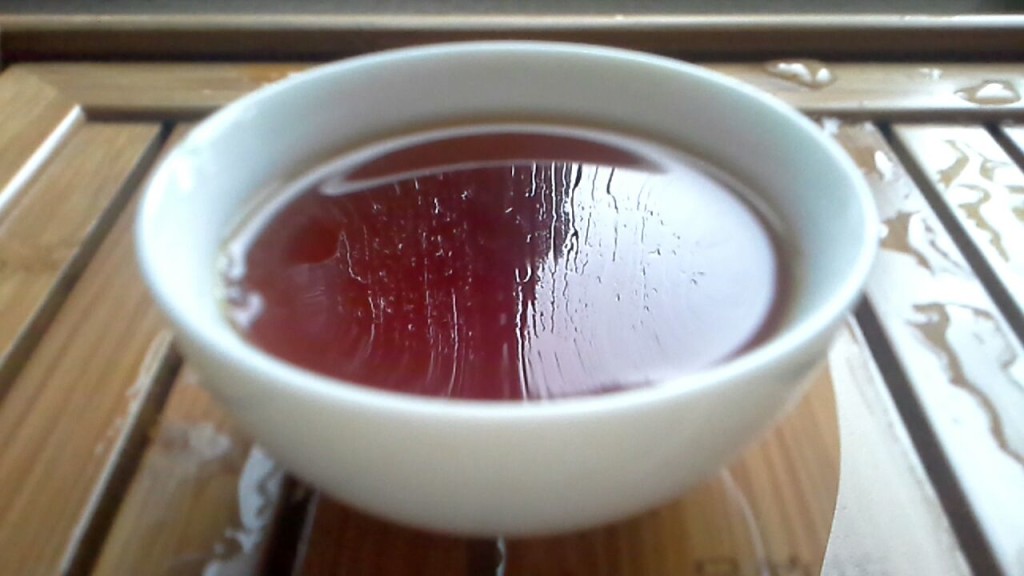 Still Breathing (2014)
"Still Breathing' speaks to the magic of a moment; the vastness of time, of the elements, all held and reflected in a precious moment, in a tiny cup.
For me, tea and the whole ritual of tea making, drinking, and appreciating, provides a doorway into my inner world, and a deeper connection with the outer world through my senses..... This piece is a reflection, in every sense, on that sensitive, alive space within us and within the world , where inner meets outer........reflecting whatever is there."
Beth Davis-Hofbauer: Beth is an artist from the south coast of England whose work examines what it means to be human, her experience of chronic illness and severe anxiety influencing much of her work.  We are exhibting two of the pieces from her Transience series which were recently shown at Aspex Gallery in Portsmouth for this exhibition.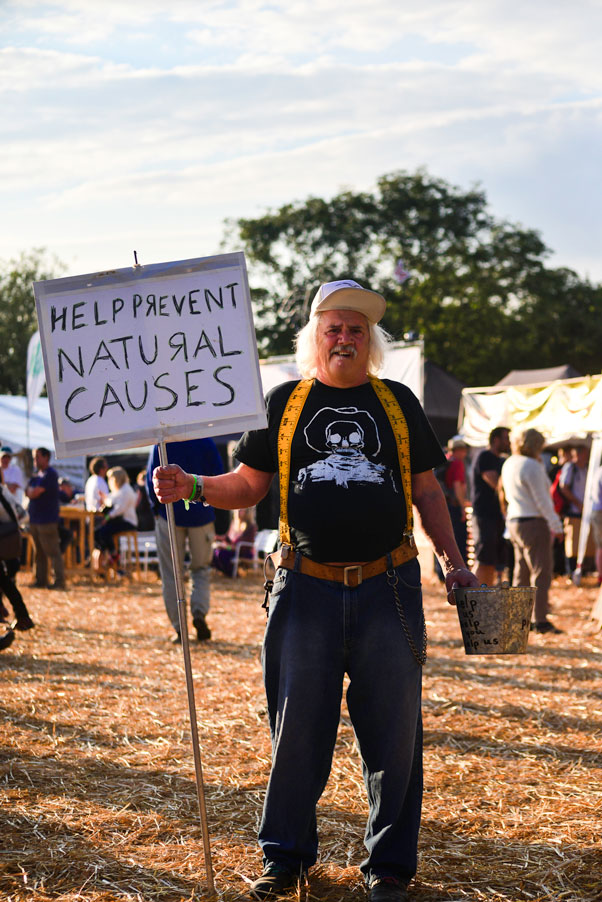 Natural Causes, 2014
"Transience uses a festival as an allegory for the transient nature of our existence.  I visited the festival site and neighbouring village numerous times before the start of the festival, documenting it before the festival, during construction and then through the festival and its removal and the village and farm returning to normal. 
It amazed me how this entire small town comes into being for a few days before it disappears and life carries on as before, much like how our own lives are just brief moments in the passage of time."
Denise Walsh: Denise Walsh is an artist from the south of England.  She recently graduated from the University of Creative Arts in Farnham.  In HOPE we bring you some of her sculptural work that explores her personal relationship to illnes and hope.  Denise Walsh has suffered from a debilitating spinal condition for the last 27 years and she has had to learn to modify her lifestyle to enable her to live an active life.  She has done this through pacing and this is reflected in her work.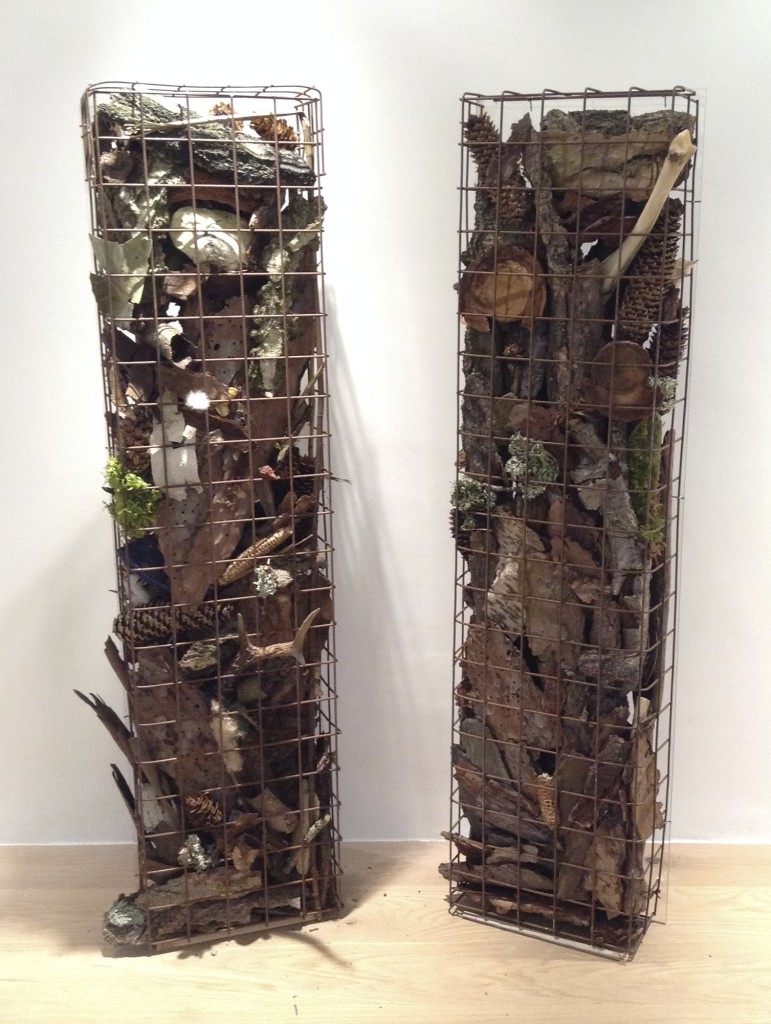 Where Landscape is Both a Refuge and a Prommise of Freedom
"'Where Landscape is both a Refuge and a Promise of Freedom' communicates the discipline and restrictions of 'Pacing' juxtaposed with the sense of freedom gained from walking, by way of the rigid metal structure encasing the natural found materials. This sculpture contains chosen found objects collected over a month of walking. These objects will of course change and decay over time, simulating the delicate balance of our relationship with nature."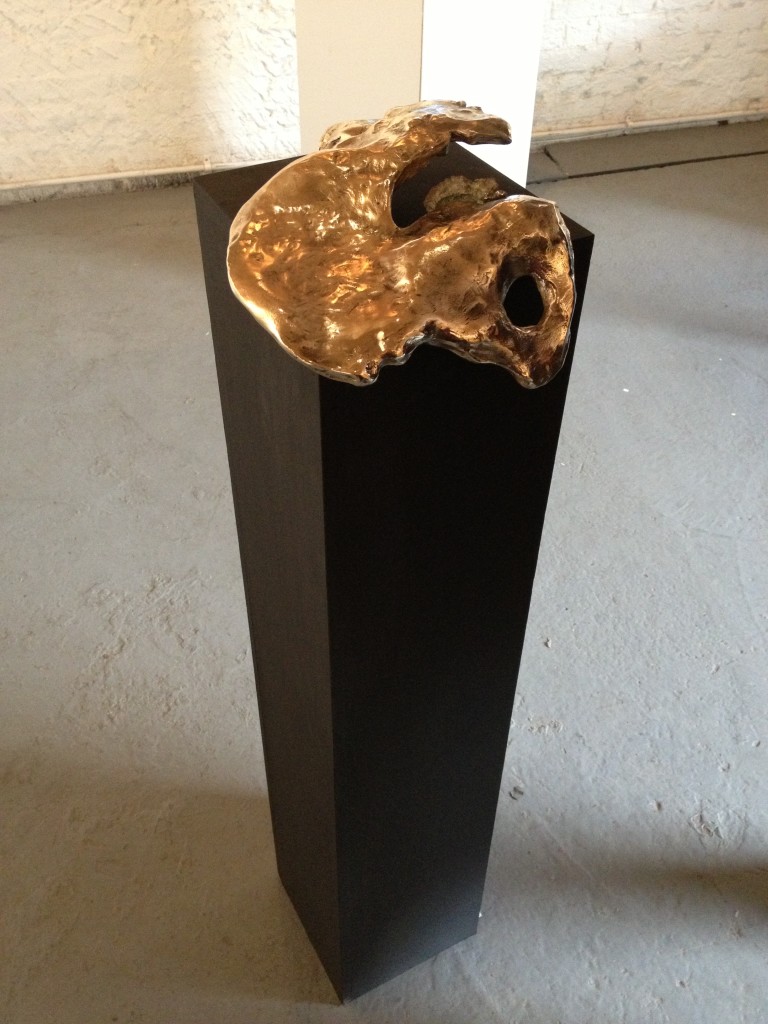 Invasion of My Being
"'Invasion Of My Very Being' is an original work based on MRI scans of the artists' spine and pelvis. Having collected a number of scans over the years due to a spinal problem, they are in themselves a rich source of material. Making this work involved constructing a 3 dimensional object in clay using the scans as the starting point. The resulting work was then encased in a 3-part mould and cast in bronze using the lost wax casting method.
Choosing bronze as the medium, which is a treasured material together with exhibiting the work on a plinth; has the effect of elevating the status of this object. This is a deliberate decision by the artist whose intention is the make something beautiful out of something that is diseased and dysfunctional."
Margaret Marks: Margaret is an artist from the south coast of England.  She works in a variety of media, in everything from sound to textiles and film.  She was recently commissioned to make an art book by The Spring to commemorate World War One.  Her work can be both light and serious at the same time and she is an artist we have admired and genuinely like since we first met her.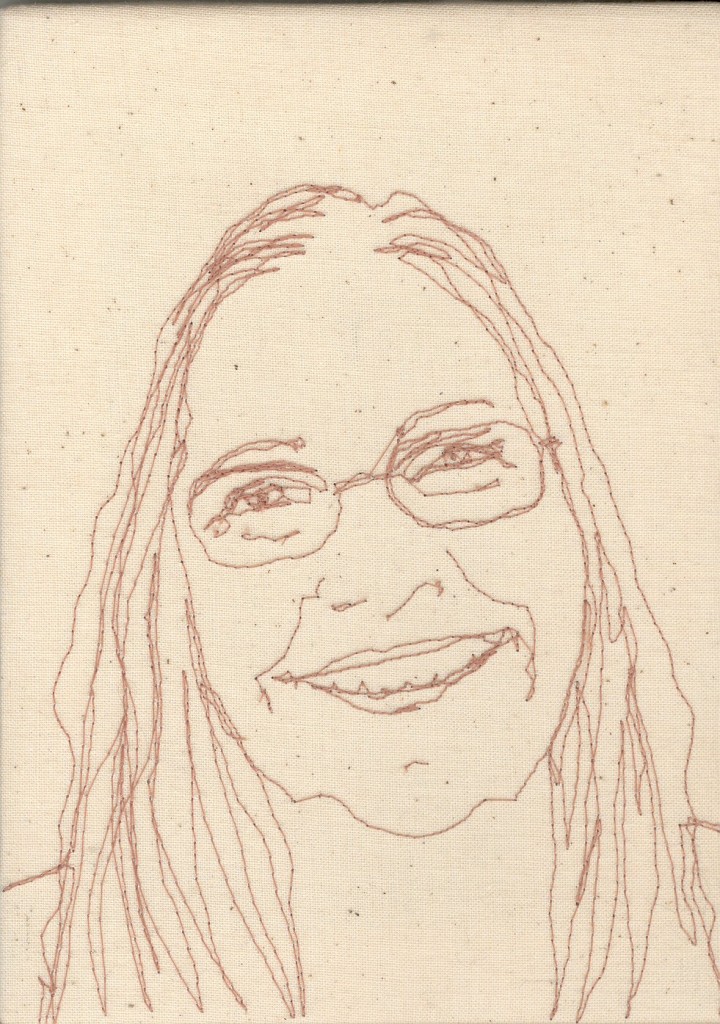 Smile
"This work consists of a series of 9 sewn images, illustrating the formation of a smile from sad to happy. Modern research states that as well as our feelings producing an appropriate facial expression, we can affect our feelings or mood by "putting on" the expression.  Smile, and you are more likely to feel happy, than if you put on a sad face. "
Marilyn Mango:  Studied Fine Art at Portsmouth University, Hampshire and gained a BA Hons (1st) followed by an MA. She has lived and worked in Europe, Asia and America and regularly visits Australia. It is this itinerant spirit that informed and inspired her latest series of paintings 'My Sky is Your Sky'. With her present studio in the UK, overlooking the horizon of sea and sky, Marilyn Mango is ever conscious that whatever our creed and race we are all look up at the same sky. The artist sees hope in this unity.
Marilyn Mango has led Performance Art pieces from Singapore to New York and has work in private collections in Europe, Australia, Asia and America.
For HOPE we are treated to her piece, Look to the Sky.........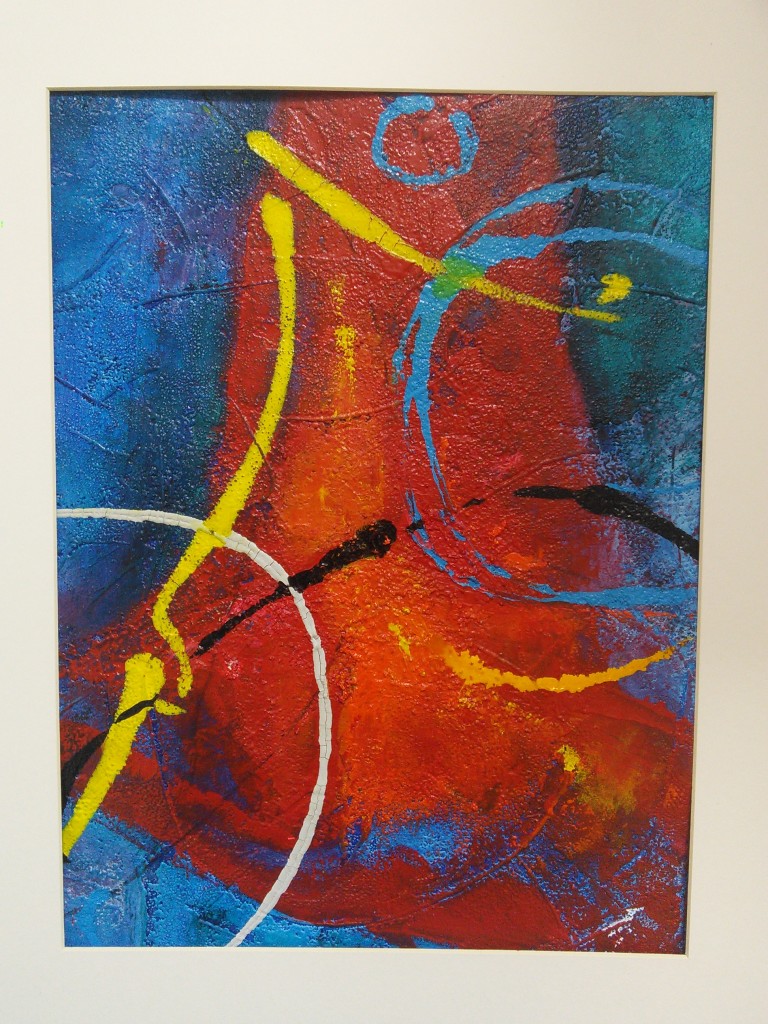 Look to the Sky
 Susan Eves: Susan Eves is a local artist based at Art Space Portsmouth. She recently graduated with an M.A. in Fine Art from Chichester University. Her work is generally an examination of themes through drawing, painting and digital art, endeavoring to capture moments and places that we might only be vaguely aware of.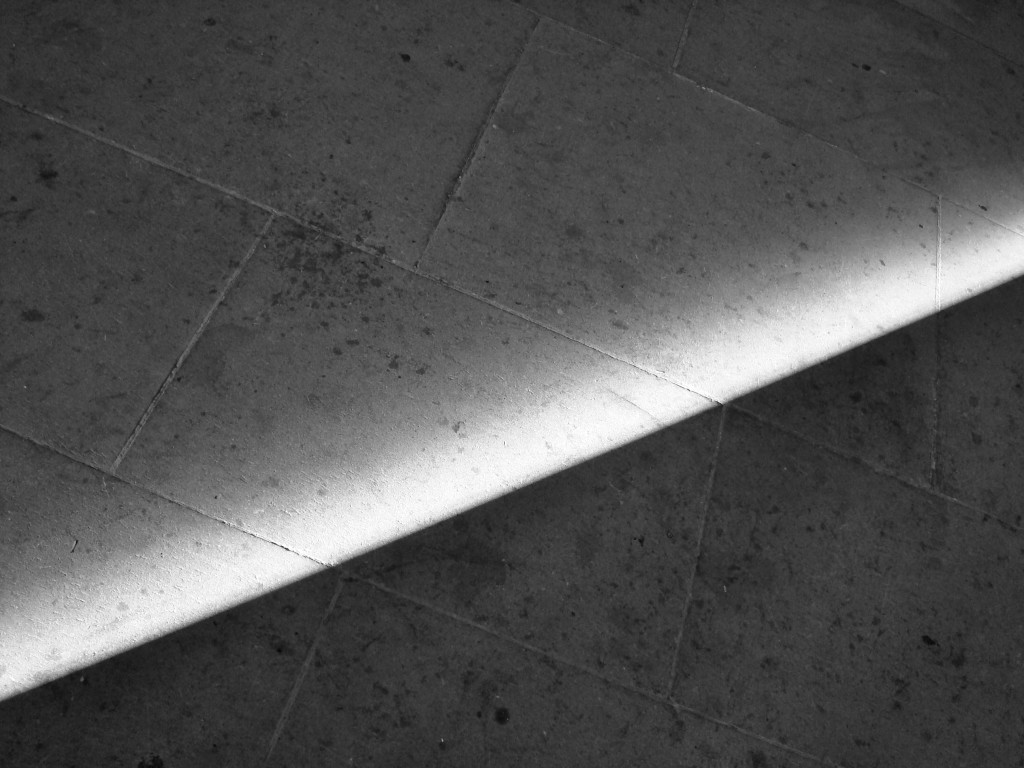 Ray of Light
"Portsmouth Cathedral has been an inspirational setting in which to work. I set out to develop an understanding of what it meant to me. During a recent Artist residency at Portsmouth Cathedral I examined my developing relationship with the building through quiet reflection and an exploration of its intimate spaces....It occurred to me that whilst we come and go the building remains steadfast and has offered hope to people throughout its history.
Ray of Light is one of a series of photographs which narrates this experience and explores my growing relationship with the building. References to 'hope' are numerous but I would prefer each viewer to seek their own meaning."
Vania MacLeod:   Vania is a Fareham based artist currently undertaking her degree in Fine Art at Winchester School of Art.  The piece featured in this exhibition is one of her series of swirl paintings undertaken using a potters wheel to create the very original design.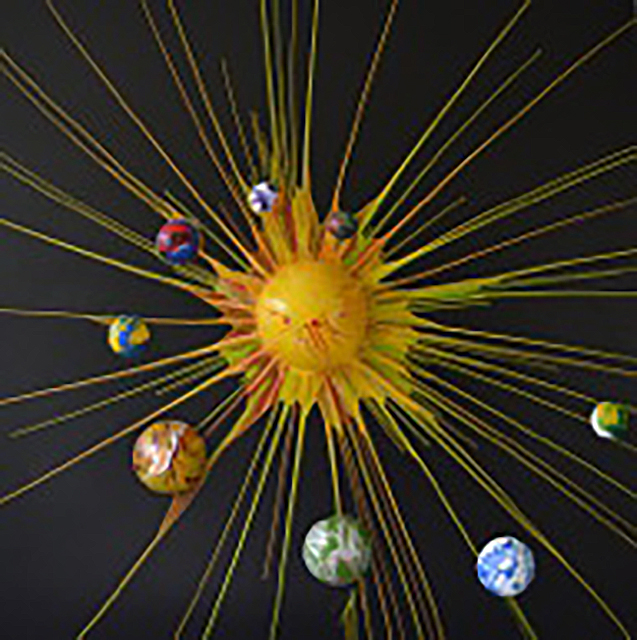 "Do you hope that aliens exist?
Inspired by outer space and astronomy, this stylised representation of our solar system brings to mind the question of alien existence.Surely there are other living creatures somewhere out there but will they be friendly? Maybe not, if they are anything like us - kill first, ask questions later!
This piece is made from polystyrene balls and acrylic paint and using a potter's wheel to spin the paint around - very messy!"
This exhibition runs from Saturday 13th June until Saturday 11th July, with the private view on Thursday 11th June.
---