We are very pleased to present our latest exhibition, We Are Forest, a new site-specific work by the Artikinesis collective.  This room-sized artwork explores our relationship with trees and invites the audience to pause a while and reflect.
As this work will be created in the gallery images of it will not be added until it is completed.
Artikinesis is a small art collective based in Hampshire and Berkshire who have been expanding their creative horizons together since 2014. While their styles vary, their ideals are shared: that genuine art should be capable of engaging its audience emotionally and intellectually and that such art should be accessible to all, without barriers. They have exhibited several location-oriented group projects in Basingstoke, Reading and Newbury and published a unique art colouring book that promotes the values of outdoor exploration and discovery.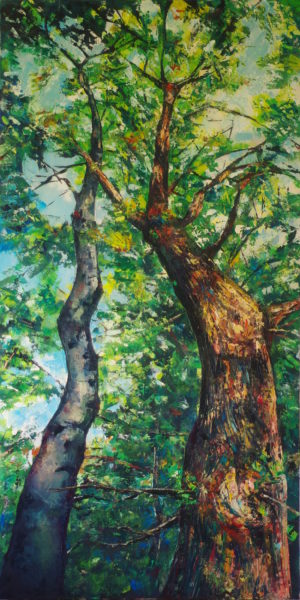 Integrating painted and projected artwork with a haunting soundtrack composed for the work, We Are Forest is a calm space in an urban setting, a chance to contemplate what trees have to offer humanity.  What answers do they hold to the problems we face as a species and as individuals? Should we be seeking to renew our acquaintance with our earthy, earthly companions? We owe the trees a great deal: since primeval times, these beneficial beings have cleansed our air; they have provided us with shelter, fuel, food, and medicine. Do they speak amongst themselves? Do they seek to communicate with us?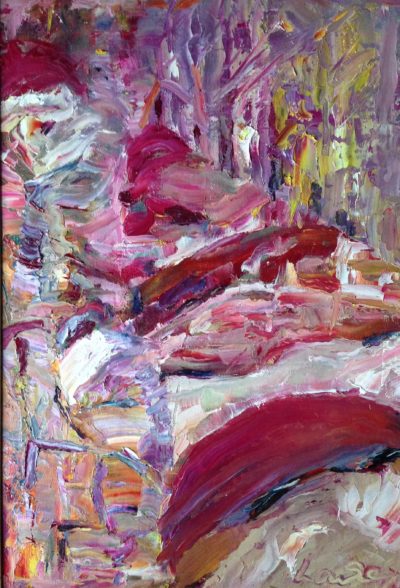 Walk through our forest, be part of it and find new forest paths of your own.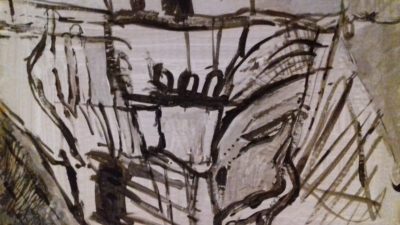 Who Are Artikinesis?
Amanda Bates:  Amanda is one of our affiliate artists.  Amanda spent her childhood rescuing dragons from princes and her early adult years attempting to understand uncertainty. She is now an artist.
With subjects drawn from reality – often found in unexpected places – Amanda's work is finely observed and rendered with a distinctive blend of clarity and energy.
Rosemary Lawrey:  Isle of Wight artist Rosemary Lawrey is drawn to small details that capture her attention in the urban and natural world. The details that obsess her are often those very elements of landscape that are overlooked. Their shapes hold fascination and mystery, and have their own stories to tell. Rosemary loves to sketch anything, anywhere and to make art in the open.
Elinor Cooper:  Some of Elinor's inspirations come from comics and graphic novels. This artist likes to use similarly bright and bold styles. She has an innate ability to find fundamental realities without procrastination. Pursuing her fascination with shapes and lines found in nature, her work has a distinctly futuristic appeal.
People are attracted by her bold and precise use of colours to create images that are consistently eye-catching. Her pictures challenge. Perhaps not always easy to assimilate at first glance, they reward the viewer who takes the time to de-compartmentalise their sections, to understand the bigger picture.
Adeliza Mole: 
Surrounded as a child by a Victorian great-great grandfather's landscapes, creativity was paramount. Adeliza also lived for three years in Japan. Out of this mix has emerged an artist known for her individual approach, for experimentation tempered with an appreciative knowledge of English landscape traditions. Adeliza's methodology induces a resonant tension between work created regularly en plein air and progressive interpretations in the studio.
A successful solo exhibition in Oxford last year opened up new visionary explorations. This year a commission to illustrate diaspora and migration has challenged her practice.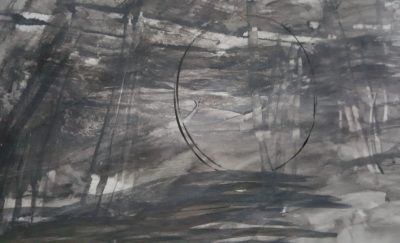 Please visit https://artikinesis.org.uk/ for more details and for more on the individual artists.