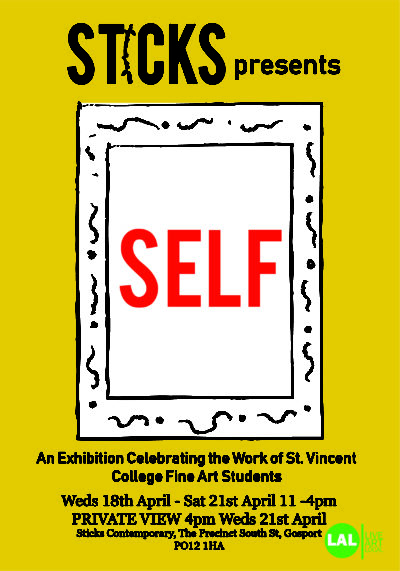 SELF is a micro-exhibition celebrating the work of St Vincent college students and enabling them to get an understanding of how an exhibition works, engage in critical thinking about work, and learn about curation and adhering to deadlines.
In order to produce this exhibition we spent a day with the students during WE ARE FOREST and got them to think about and question the work on show.  We were joined for part of the day by two of the artists from the Artikinesis collective who spoke about their personal relationship to the work, as well as practical aspects, and more widely about life as an artist.
The students came up with the theme of the exhibition for themselves as a result of these discussions.
SELF
This exhibition includes works that present an exploration of image, visual identity and the importance of how we see ourselves. Some works explore the emotional impact attached to self-image and others record aspects of family relationships that dictate appearance and shape how we feel. For some this has meant considering mental health and changing states. How we see ourselves is often odds with other's versions of us. Symbolic objects are sometimes included because of a personal significance for example.
The students involved the exhibition are:
Phoebe Craig;
Ella Horrocks;
Jay Turner;
Lisa Barnes;
Caitlin Walker;
Belinda Hancock;
Mille Robinson;
Sophie Massey;
Esme Sullivan
We will add images as they become available