Amanda Bates
Our artist this month is visual artist, Amanda Bates.  Amanda is based in North Hampshire and her recent projects included the Artekenesis collective show at  the Proteus Creation Space with new works that explored the local area, looking at it in a different perspective were exhibited.  We caught up with Amanda to find out about her work and what 2016 holds for her.
What medium/media do you work in?
I work in whichever medium is to hand and seems appropriate... Most commonly, oils, acrylics and line with wash. I do a lot of sketching in pen; I like the definitiveness of the crisp ink line on the page, and the simplicity of it. I also like Conté and oil pastel and various sorts of pencils. I sometimes work digitally (drawing with a tablet and pen, or using vector graphics to exploit the computer's strengths) but I do prefer the feel of real media.
Which is your favourite medium?
Oils. Definitely oils, applied with a knife. I like that the paint remains malleable for some time. I like that I can work as fast or as slowly as I need to. I like the immediacy. I like the hint of tradition, twisted into modernity by the imprecision of the blade and the unpredictable interactions between layers of wet paint; I like the strength and solidity of the results, the brilliance of the undiluted colours, the expression/suggestion/impression that the medium allows... and I don't have to clean any brushes when I'm painting outdoors.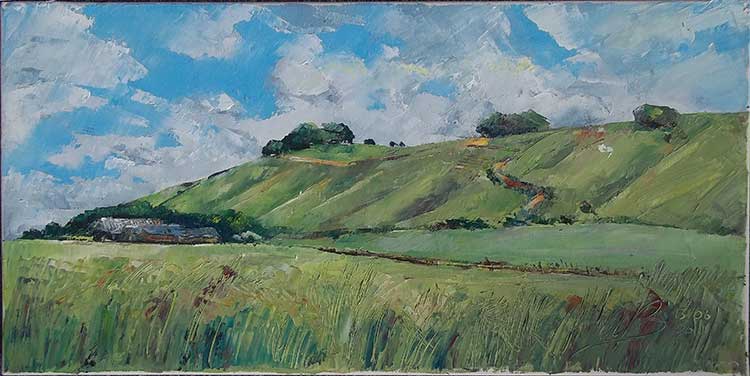 Can you describe your process for us?
I often work with just four tubes of paint - three (cool) primaries and white. I don't think of it as a limited palette, because the range of colours that can be mixed from it is enormous. My favoured colours in oil are phthalo blue, rose madder quinacridone, lemon yellow, and titanium white. If painting outdoors, the first step in the process is to find an interesting subject. This might involve a day spent walking and looking and sketching and taking photographs. Or it might draw upon my familiarity with the local area. My kit is simple and a little ad hoc, and it all goes in or on a rucksack. Once I'm in position and all set up, I have a good think about the composition and where the horizon is going to be, and I'll usually start with the sky. I often go straight in without drawing, but if the composition is complicated, I will make a rough sketch with charcoal on the canvas. After the sky's done, I might block in the darks. I try to minimise my use of white, especially in the early stages, and I often emphasise the colours into brighter, purer shades.
Who and What are your influences?
The French Impressionists, particularly Cezanne; Georgia O'Keefe; Turner; Rembrandt. Escher, for his playfulness. Van Gogh. James Neal. 1930s railway posters. 2000AD. Brian Froud. Seurat, for the optical colour mixing. Isaac Newton. Leonardo da Vinci for being interested in everything as well as for being a consummate draughtsman.
I'm a magpie. I pick up ideas from all sorts of places; I couldn't tell you all of them. I wouldn't say my art is directly descended from any of the above, but some of the influences are more visible than others. I'm not even sure if all of the above are genuine influences; I never thought much of Seurat's pointillism beyond his expression of colour theory, but it's been pointed out to me that my "polychromatic" knifework has a similar effect. I actually suspect that Isaac Newton was a more direct influence, as I knew the science of colour theory a long time before I enountered Seurat's work.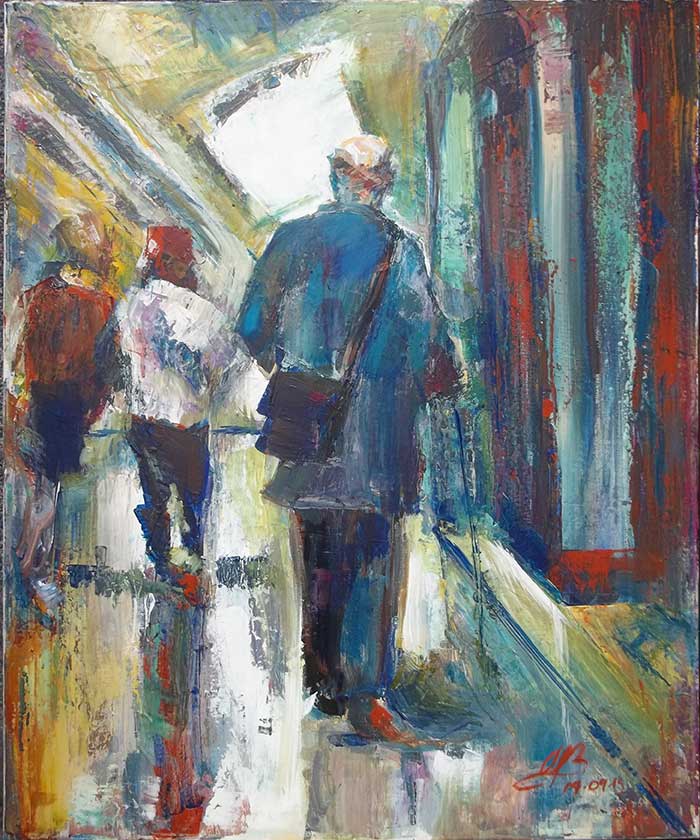 Which living artist are you most inspired by?
There are many that I admire, but I don't often consciously take direct inspiration from other artists. I do find inspiration in the exchange of ideas, and forming Artikinesis (a group of five like-minded artists) last year has been incredibly inspiring.
If you had to describe your work in 5 words what would they be?
Spontaneous, reactive, instinctive, evocative, idiosyncratic.
What are your artistic ambitions for 2016?
I'm hoping to pluck up the courage to approach a gallery or two this year. I intend to do more collaborative work within Artikinesis. I hope to develop my interest in movement and the human figure, and to continue working on the sense of place I feel in the landscape.